Mass Testing
COVID-19 Testing for Students
By testing, we will help to stop the spread of this virus and keep our school and community as safe as possible. The test is voluntary, but we would encourage everyone who is attending school to take it.
We will be testing staff and students who want to participate from the week commencing 8th March 2021. Students will be tested three times. Students will return to school the day after their first negative test. The following tests will take place while students are in school.
Those taking the test will be supervised by trained staff. The 'lateral flow' tests are quick and easy using a swab of your nose. Staff will oversee the swab process. See picture below which shows how to take your test, along with a video guide: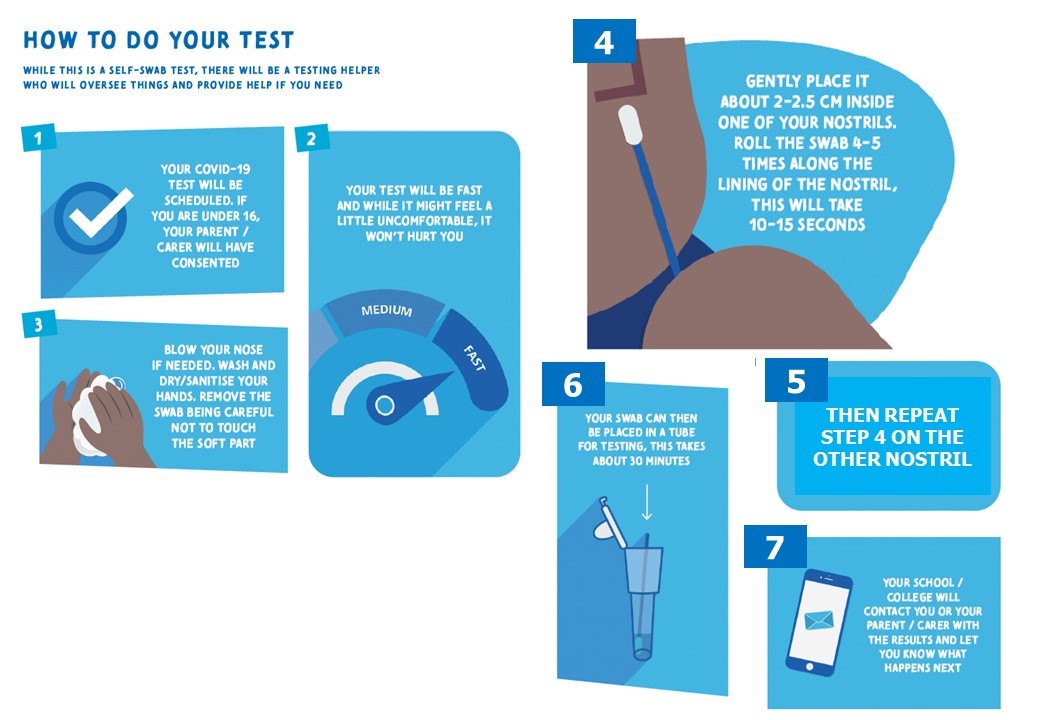 Click to view Video Guide:
When will the testing take place?
A separate email will be sent to you with your child's specific testing times, along with more details about how the process works.
What if my child tests positive?
If a student tests positive on a lateral flow device, they will need to self-isolate for 10 days from the day after the test result and follow the guidance from NHS Test and Trace. Results (which take around half an hour from testing) will be shared directly with parents/carers. You will be informed by 5pm the same day if the result is positive.
What happens if the test is negative?
Pupils who test negative will be able to return to school and resume their activities as normal. Parents/legal guardians will be informed of negative test results via text/email from NHS Test and Trace.
What if students have been in close contact with someone in school who tests positive?
The student will be notified that they are a close contact by the school and will need to self-isolate for 10 days in line with Government guidance. A text and email will be sent to parents/carers. Please email covid@tkc.thpt.org.uk if you would like to be informed by phone if your child needs to be collected in this situation.
Should my child take a test if they have tested positive in the last 90 days?
If a person has tested positive in the last 90 days, they are likely to have developed some immunity. There is therefore no requirement to test within the 90-day period from testing positive.
However, if they do test for any reason, and test positive, they are required to self-isolate.
How will home testing work?
On Friday 19th March we will distribute the first batch of home testing kits for students. Students will be able to test at home twice a week, from this date. More information will be updated here shortly.
What if my child develops symptoms?
This testing programme at school is for people with no symptoms. If your child develops symptoms at any time (including a high temperature; a new, continuous cough; or a loss or change to their sense of smell or taste) they must immediately self-isolate and book a test by calling 119 or visiting https://www.gov.uk/get-coronavirus-test.
Please continue to inform us using the covid@tkc.thpt.org.uk email address should your child become symptomatic or test positive.
Any other questions?
If you have any questions having read the information above, please contact us at covid@tkc.thpt.org.uk.
Please click on the links to access the documents below:
Electronic consent form:
https://forms.office.com/Pages/ResponsePage.aspx?id=QZVlsPBRsUWP-jJTUg8qjlFKYGLtM-JBsK8c9QqKLlZUM1ZRQlBYUkhTRE1OR0NDWlkyQzQ4SVdFUC4u