Recovery Plans & Catch-Up Funding
Recovery Plans (Covid-19)
We have been collaborating across all the levels of our organisation to develop our plans to welcome back our students to school. We are writing to share the principles of our plan with you.
An overview of our plans for academic and pastoral support is included within this document. They include strategies and programmes to nurture and develop skills as well as recover learning. The government's Covid catch-up plan has been taken into account and while some strategies will be bespoke for identified individuals, every child should expect to benefit from these plans. We know many will agree that teachers, support staff and families across the country have provided extraordinary support to help children learn at home during the Covid-19 pandemic. However, we recognise that for many children, the disruption caused by school closures will have had a negative impact on learning and wellbeing.
Every school will have been affected by Covid-19 differently and we do not underestimate the needs of our school community. The right way to support students will differ between schools.
Our prevailing recovery principle concerns how we plan to tackle the impact of lost teaching time rather than specifically focusing on catching up on the individual tasks that were set during the partial closure. While curriculum catch-up is something we will address, for many children, simply returning to school will be what they need to resocialise and to reacquaint with the routines and habits of effective learning. In lessons, the focus will be on building on prior knowledge and closing knowledge gaps in the curriculum using medium-term planning in line with quality first teaching. Low-stakes assessment, including teacher questioning, will help teachers to plan next steps. We will be making arrangements for students who are continuing to shield.
Our pastoral support package focuses on empowering students to develop the ability to make positive choices to bring out the best in themselves, focusing on resilience and wellbeing. We recognise that each young person will require varying types and degrees of support and we are building this into our plans. Students need to be ready to learn to get the most out of school and we are confident our tailored pastoral sessions will enable this.
We recognise that it is important to explore the experiences the school community has faced during the global pandemic. When students return to school, we will be offering them the opportunity to consider the challenges society has faced, celebrate the positives and also provide support for those who have found the situation particularly difficult.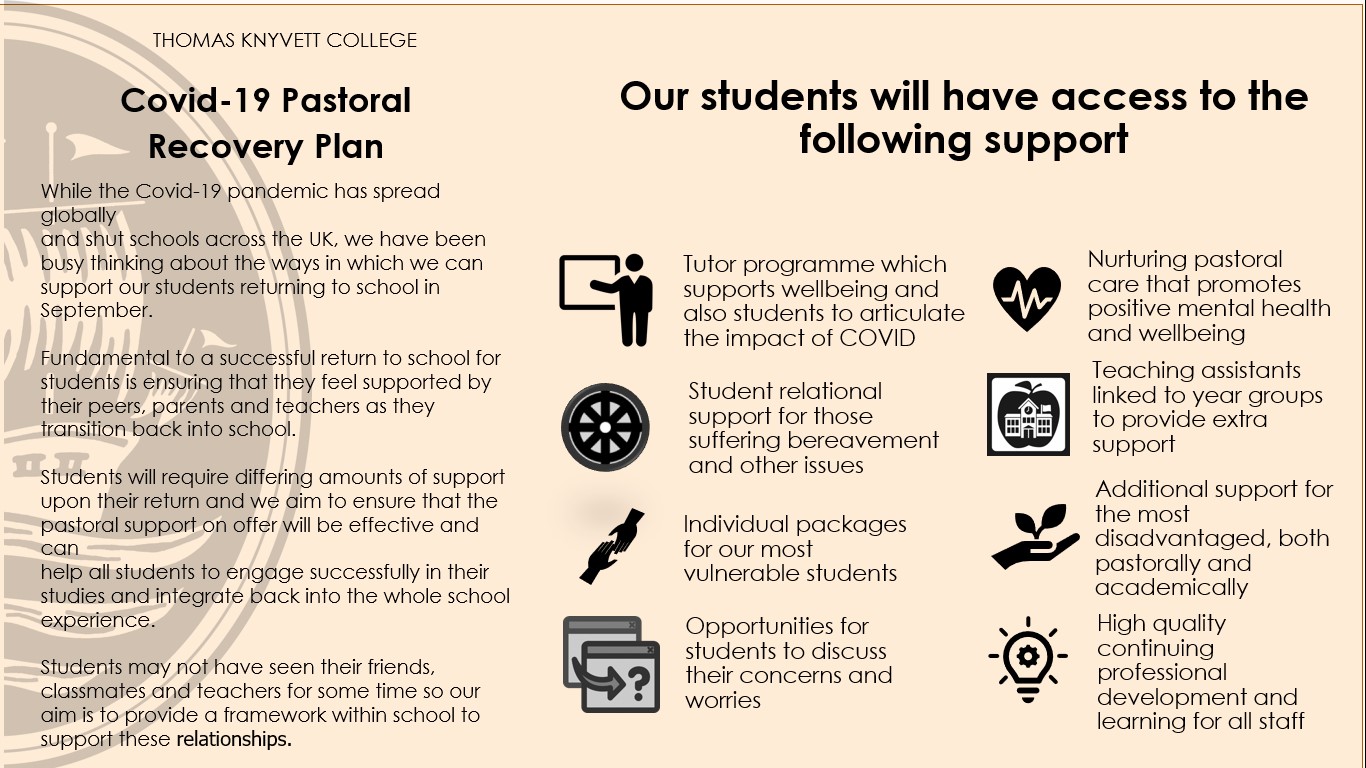 Proposed spending for of the catch-up fund
We aim to spend the catch-up funding on the following activities, although these will be reviewed throughout the year to ensure the most appropriate and effective use of the funding.
Proposed spending of catch-up funding

Activity

Detail and reason for activity

Estimated Cost

Intended impact and how it will be measured

Access to IT

To provide laptops/4G routers for students without home access

Central Trust strategy

Students engage in learning and are prepared for remote learning should a lockdown occur

CAT4 baseline assessments for Year 7

To provide a proxy for KS2 attainment and progress potential as national assessments not taken in 2020

Central Trust strategy

Teachers better able to differentiate and support progress- measured in progress students will make against targets

KS4 Academic Support Programme

To provide targeted support for identified students in core subjects with additional tutoring in small groups

£9,800

Students' progress in core subjects and student voice

1:1 My tutor at KS4

1:3 tutoring at KS4

To provide targeted support for identified students in core subjects with additional 1:1 tutoring

Central Trust strategy

Students attend school and engage in their learning- students' attitudes and progress relative to aspirational targets measured

KS4 Academic support across the curriculum for practical subjects

To provide targeted support for identified students in practical subjects with additional tutoring in small groups

£1,500

Students' progress in practical subjects and student voice

Cover supervisor salary that will cover withdrawal sessions

To provide the opportunity to withdraw students from subjects to support progress for student

£19,270.50

Students' wellbeing and progress relative to aspirational targets measured

10 bookable tablets / laptops through KS4 Lead

To provide students with computer use when computer study spaces are unavailable

£6,300

Students able to study on site during options time and for use in tuition

Literacy at KS3

To provide each student with the set literacy text for year 8

£733

Engaging students in literacy and building confidence and resilience

All these lead to improved outcomes for students.
*KS3 – Refers to Years 7 and 8
*KS4 – Refers to Years 9,10 and 11